We've just had our evening meal sitting in the shade of the apple tree at the bottom of the garden, my favourite place on hot Summer days.
It brought back memories of my own Grade 7 piano exam, and this little piece of Grieg which was one of my set pieces: "Summer Evening" Lyric Pieces op 71
http://www.youtube.com/watch?v=-7_Uis493BE
I can remember how much work it was to make those rippling phrases appear totally effortless. Here's a more "matter of fact" version (starting at 2′ 54″) which I think I slightly prefer – less rubato, and more naturalistic, somehow. (The piece that follows is "Puck" which I also enjoy playing and teaching)
http://www.youtube.com/watch?v=yZceTnU6iQ4
The piece is so amazingly "Grieg"-like. Is it the little ornaments, or the little rushing streams?
Many years later I was shown a way of learning to play fast, light passages of music on the piano. This was at a piano masterclass, where I played Benjamin Britten's Notturno: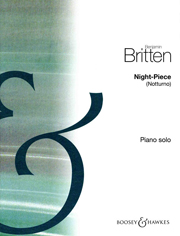 http://www.youtube.com/watch?v=YowGc6YFr0k
You need to make your hand completely weightless, so that all the action on the keys comes from just the fingers. If you are working on your right hand, you lean all your weight forward onto the structure of the piano. Bend your left arm, and lean against it. Now, maintaining all the body support on your left arm, work at the right hand passage, keeping all the weight over the supported left side. Your right hand should feel lighter, more free, more rapid. Now, slower re-balance yourself into a  normal seating position, but maintain that sense of lightness in your right arm. Try the phrase again, but make sure that the fingers carry no arm weight.
If leaning on the piano doesn't work for you, you can try the same thing, but place a stool or chair to the left of your piano stool and lean all your weight on that.
Obviously if it is your left hand that you want to be weightless, reverse the directions!
I found it an extraordinarily successful way of learning to free my shoulders and arms, and get my balance and weight centred into by seat and back.