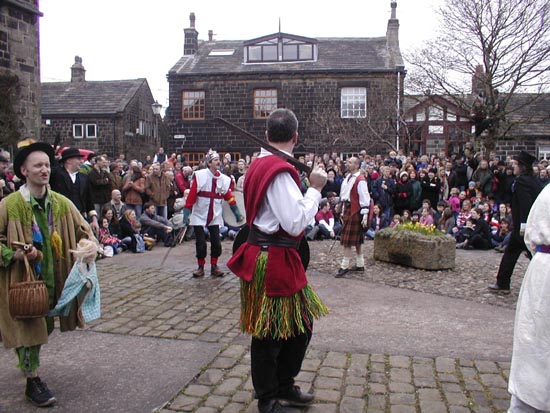 Pace Egging is an old Easter tradition in Northern England, where local villagers, known as "the Jolly Boys" would dress up in disguises and act out a play, very much in the style of the "Mummers", which I've always  associate with Christmas time. "Pace" comes from "Pacha", the Latin word for Easter. I've gleaned the information from John Ravenscroft's website here: http://www.timetravel-britain.com/articles/history/pace-egging.shtml
where you will find full details and more photographs.
You can get the words and the melody for the song here:
http://www.traditionalmusic.co.uk/song-midis/Pace_Egging_Song.htm
I have also managed to find several scripts for the play here:
http://www.folkplay.info/index.htm
The script at http://www.folkplay.info/Texts/89sd39ch.htm dates back over a hundred years! The Pace-Egging song is sung at the end of the play, no doubt when they were passing the hat round the crowd.